Is there already a thread for random screenshots and general thoughts that don't really count as stories/legacies? If so then I apologise for starting a new one. They can always be merged if someone points me in the right direction.
I've been playing TS3 quite a bit over the last few weekends and you know how I like to ramble on, so I thought I'd start the equivalent of the big general chat thread but for stuff from the game. Feel free to chip in with your own TS3 pictures and stuff going on in your game.....
At the moment I'm playing in Aurora Skies and putting a sim through a Fine Arts degree (but very slowly because she's too poor to stay for more than a week at a time and I accidentally deleted the mascot's basket so she couldn't take the test to get a scholarship!). Today it was the full moon - the game went crazy and turned a huge proportion of the students into zombies! They were freaking everywhere, groaning and flopping their heads about. What a crazy campus.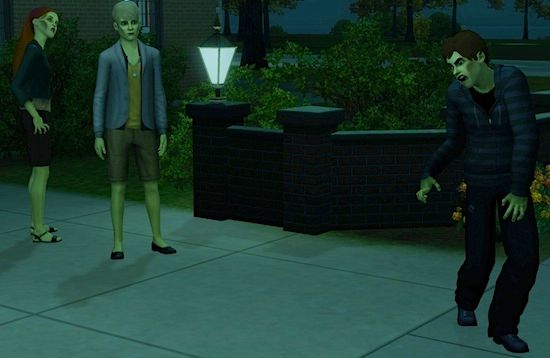 I locked my active sim in her room so she wouldn't get her brains chewed up.
If this continues I might turn the full moon off because it's too tiresome to have this many zombies all over the place.
In other news, I downloaded Midnight Hollow and had a very quick look around. I like the look of the houses and the general eeriness of the town (the graveyard looks amazing). Some people seemed to be saying that it was
too
dark in their games but mine looked OK. Maybe it was just the contrast if they'd recently been playing a sunny world, or perhaps it has a lot to do with your monitor.
It seems to me that Midnight Hollow is effectively a TS3 version of the set of any Tim Burton film I've ever seen. A Johnny Depp sim is clearly needed here.