Having had a few hours free on my afternoon off, I decided to start something I've meant to do for a little while now - fill up Archipelago Bay with buildings! Yes, I am going to single-handedly populate an island not only with people but with residences. Exciting eh?
Archipelago Bay is one of
BluebellFlora's worlds
and has been built without roads of any sort, so it shouldn't have routing problems or lag. She's already placed some residential and community lots but they are empty. It's tempting to plonk down a bunch of her builds, since they are so nice, but it seems a bit lazy so I'm going to make my own. I am not a talented builder, as you shall see, but it is quite relaxing to potter about and I do like decorating.
And so let's get cracking. My plan is to have a unified theme on each of the little islands, but I'll try to do something a bit different for each island. First up, this little island that needs five houses. I'll be starting with this one at 1 Coral Plaice.
This is the plot before I built anything. One side will have a view over to a tiny island with a single lot called Isolation Point. The other side will look across to another set of residences. I decided to preserve the privacy of the person who choose to live on Isolation Point, so all the houses will have their doors on the opposite side. Don't want to be too intrusive. It would be madness, however, to live somewhere with a view like this and not have balconies, so I'll have to make apologies about that to the hermit that ends up on Isolation Point.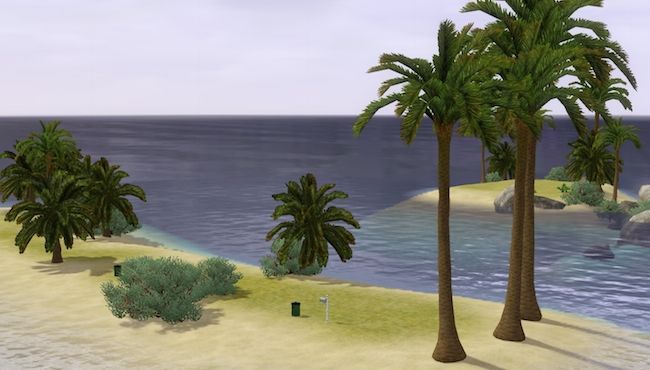 As you can see, I excel in the art of stacking one box atop another box.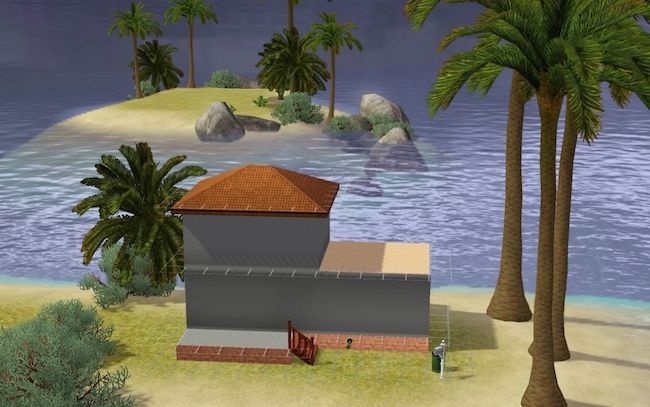 I decided to have a foundation to raise the whole thing up for a better view from the balcony. It's only a 10x15 plot so this will be a one-bedroom house for a single sim or couple. I've stuck the post box and bin in a corner at a jaunty angle, so there'll be plenty of room for a few plants at the front of the house.
Next, the fun bit - picking a colour scheme for this island. Fortunately I had just sat down with a cappuccino, so thought of doing coffee and cream colours. This may end up looking hideous but I'm going to go with it.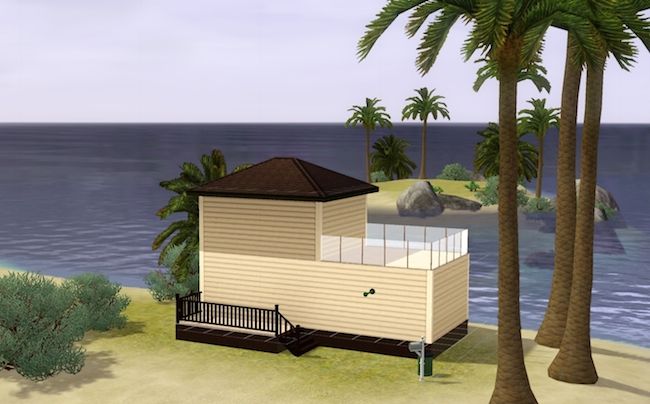 So we have creamy wooden siding for the walls and dark wood for foundation, railings and steps. Simple dark roof because I detest roofing and can't bear to spend too much time on it. I experimented briefly with thatch but it looked quite silly (they have the texture right but not the right roof shapes for thatch, or none that I've ever seen). I went with a lighter, mostly glass railing for around the balcony as I didn't want to block the view with clunky wooden posts.
For doors and windows I used mostly ones from Island Paradise and I changed the colours to match the woods that I'd already used. I like those shuttered windows - they look propped open for a nice breeze. They don't let in much light, so on the short sides of the house I used larger, more open windows without shutters. I may need to add a few more windows I think.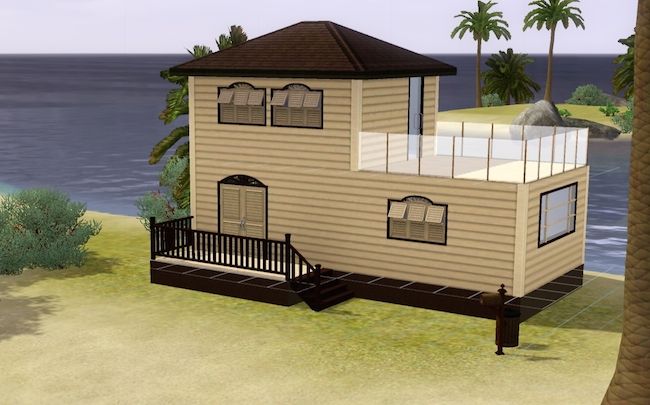 I also recoloured the bin and post box but they've end up a bit too dark. I'll lighten them up next time.
Final act for today, a few plants. BluebellFlora has already put bushes and palm trees between the lots, so I decided to stick with the green palm theme with some of those handy banana leaf shrubs, but also put in some orange bushes and flowers, partly because it goes with the sort-of-yellow exterior walls and also because then I can use those nice birds-of-paradise orange flowers.
I stuck a few potted green plants on the balcony and one next to the door.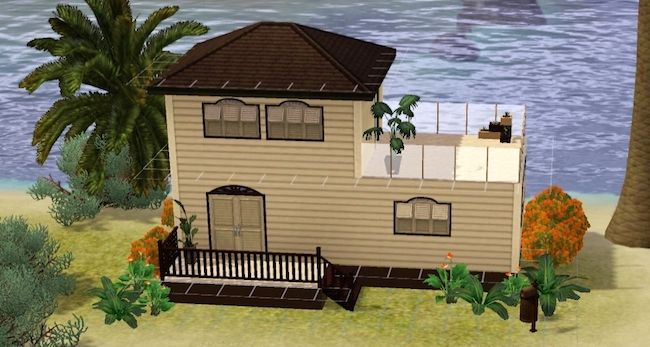 So that's as far as I got. Next up: the interior. But that will have to wait till the weekend.
Feel free to make suggestions if any spring to mind!