I've been playing this legacy game for a while now but I haven't taken any pictures until today because it took me a loooooooong time to get the founder established. I have three aims:
1. To recreate my Sims 2 legacy in which my favourite sim, Vanessa Valentine, was immortal and had a massively multi-generation family with a family tree that would scramble the brains of the best genealogists.
2. To be extremely strict with myself and only ever roll the dice to let the game choose the traits of the children. The temptation to engineer "nice" sims or ones with useful traits is very strong in me, so this is hard work! But rolling the dice does result in some interesting personalities and if I hate the way the kids turn out I can always kick them out, right?
3. To have fun and not worry about the story going in any particular direction. I just see how it goes.
She's very familiar to me but perhaps unknown to you, so may I introduce you to the lovely Vanessa.
In TS2 Vanessa was addicted to that green drink you got in a water cooler-type dispenser as a lifetime reward and that is how she remained immortal while many generations of her family grew old and died. It was a slightly dark tale of drug addiction but never mind! In TS3 I keep her going by making ambrosia and eating life fruits - so she's still an addict but now it all seems a lot more wholesome, being fuelled by sparkly quiche and fresh fruit.
Her traits are as follows.

She's essentially a rock chick and a man-magnet, which happily makes it relatively straightforward to keep the offspring springing off. Her normal career is in music but at the moment I have temporarily shifted her into culinary so she can get that super fridge that I always covet.
So far she has had two children and yes I rolled the dice for their traits so they can turn out any way the game decides.
The oldest became a teen just yesterday and here she is: the slightly gawky (she will grow out of it) and spud-faced (she may not grow out of that) Victoria.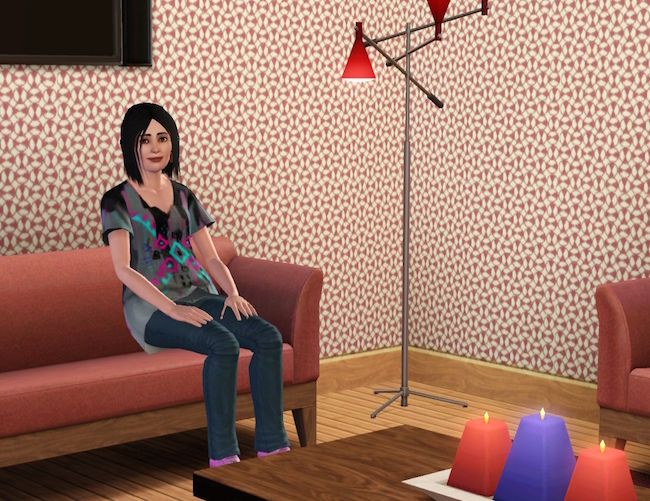 Her traits so far are, I think, utterly ridiculous.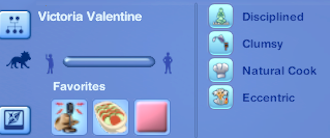 Being "disciplined" is not particularly useful unless you are going to practise martial arts, which is just terrific (I can tell you from personal experience!) when combined with being "clumsy". Ah, the impressiveness of the bruises that may be collected! The trouble with being a disciplined sim is that it is otherwise useless and, as far as I can judge, being clumsy just makes them stumble occasionally or get stuck trying to open a drawer. There should be a lot more falling over!
"Natural cook" is much more useful and makes her take after her mother and "eccentric" I can live with as I don't often play inventor sims so that will give me an opportunity to check that out a bit more.
What I did find surprising was that as soon as she aged up to teen, Victoria immediately expressed her attraction to some other girls. This is interesting to me because the first daughter of Vanessa in my TS2 game was also gay. Weird coincidence.
Last weekend I finally had Vanessa get married to Victoria's dad, Styles (what kind of name?) after they'd been seeing each other for some time. Vanessa tends to sleep around so it took a while to persuade Styles that she was serious. The wedding was chaotic, with guests behaving oddly and an alien abduction (of poor Styles). When he finally managed to return to the planet after his probing, I noticed that he was moments away from becoming an elder, so I had to get Vanessa to hound him for woohoo and get knocked up super-fast. Fortunately she was up to the challenge, and presumably he was so probed he no longer cared, with the result that a baby bump quickly followed.
The baby turned out to be another girl, Veronica, and she rolled highly undesirable traits.
A loner and a slob? Great! Well I certainly never would have picked those. She is going to be utterly delightful isn't she. Jeez.
At the moment the family pretty much live on cake, given how many weddings and birthdays occurred in close succession. Cake, cake, cake. It's not so bad really.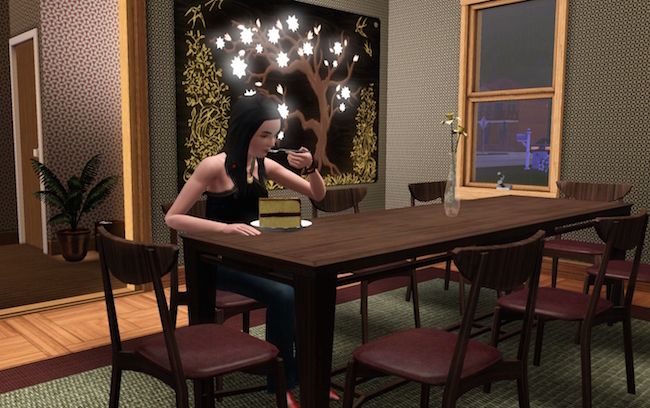 Plotting The Demise Of Styles
We have a slight problem with Styles. He is very grumpy and really dull. While Vanessa runs around looking after the kids and earning money, he just flops about the house and plays his stupid video games. He is a real waste of space. He also is a "rebel" (really?) and so keeps pulling out that annoying soapbox and giving everyone a lecture. And so he will have to die.
He's served his baby-making purpose now anyhow. I considered just letting him die of old age, but he's got a high athletic score so I think he'll keep going for some time......
Vanessa is on the case though. While fixing the bathtub that he'd broken, she thought of ways to cave in his skull with a hammer.
And while fixing the laptop he'd broken she pondered the usefulness of the screwdriver in ending Styles.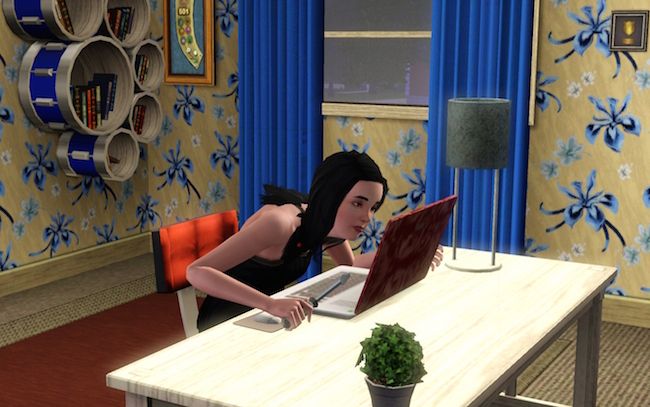 Make a terrible mess though wouldn't it.
Pool with walls round it? A small house fire (has the bonus of attracting firefighters)? Hold out hope for a meteor strike?
I will think of something.